Sun, June 28, 2015
Jared and his girls are enjoying fresh farm raised blue catfish for dinner tonight from their 4 acre pond:






Justin and I were searching the bottom of our lake Saturday afternoon for a prop that fell off our boat earlier in the day… anyhow after an hour of unfruitful searching we got side tracked when we found a bunch of big channel catfish guarding eggs in their holes.






The bait of choice was actually our hands… swim down, stick your hand in the hole and the catfish would clamp down tight and then we would wrestle them up to the surface… my hand is a little sore today, but cant wait to go back looking for that prop again later this week!






In case you haven't noticed, its been raining quite a bit here in Central Illinois this month. I did a quick google search and found an article that said Peoria's 2nd rainiest June of all time.. that folks is a lot of rain.



We started filming Season Two of Lake Life a couple weeks ago. Part of the episode was fishing at our lake with Sean Casey a 3 time all star with the Cinncinati Reds and MLB Network Analyst. Season Two is gonna ROCK!!!






And a little fish shocking too… also of note is that we have hired another biologist and are currently taking reservations for fall fish shocking surveys!






If you don't have DIY Network or you keep missing it on Tuesday nights, you can catch Lake Life Season 1 on Amazon.com- http://www.amazon.com/dp/B00XD5EDPW?ref_=imdbref_tt_wbr_aiv&tag=imdbtag_tt_wbr_aiv-20



We have had alot of fun events this spring so far! Our fishing tournament at the Giant Goose Ranch with Camp Big Sky in May went awesome!






Our fishing tournament at the Giant Goose Ranch with Hooked on Fishing Park also in May went awesome as well!






We had a fun corporate event for Precision Planting Sales Team last week that was a blast… literally… cast and blast to be more exact. We had a fun rifle shooting and clay pigeon shooting competition followed by catching enough fish for dinner for 30 people just 2 hrs before dinner… good thing the hybrid striped bass were biting! If your looking for the ultimate team building corporate event, I think we got you covered…






Goose Ranch is pumping out some monster fish this year! With 52 lakes and ponds and its own fish hatchery, this is gonna become the top multi-species fishery in the country in just a few years! However, we aren't too far off already, here are some good ones from this year so far:






Here is a shot of the new campground under construction. We have 87 new premium lots that should be ready in just a couple weeks! We have already presold over half of them and hope to have the rest spoken for by the end of the year. Don't miss your chance to join the Midwest's Premier Camping, Fishing, and Family Outdoor Recreation Area!








At the Goose Ranch we have about 30 more of the new campsites still available for yearly camping lease and about 25 buildable cabin lots also available for yearly lease as well. With each lease you get membership to the whole property and your own private lakefront lot suited for your camper or we custom build portable cabins on the cabin lots. www.giantgooseranch.com



We are having a big party this Friday July 3rd starting at 5 pm! This is a free event for members and only $5 per adult for guests. Its a potluck so bring a desert or covered dish and we are supplying the pulled pork along with a lot of fun carnival games for kids and of course Fireworks at dark! If you are not a member, but would like to come bring the family out for some fun and check out the goose ranch, just contact .(JavaScript must be enabled to view this email address)@hblakemanagement.com to be our guest. We would love to have you come hang out with us!


Sun, May 10, 2015
About three years ago we were approached by some tv people who said we think what you guys are doing would make a good tv show…family outdoor related business working with fish and building cool lake front creations…. Quite a bit has happened since then, and here we are just a few days away from our very own tv show premiere!!






The show is called Lake Life and it premieres Tuesday night May 12th at 9 pm on the DIY Network. we will have a new episode out every Tuesday night all summer long! Its a build show but its not your typical DIY or HGTV build show. Its actually a lot more real to life in the construction world and everything doesn't always just go together perfectly or is made to look simple.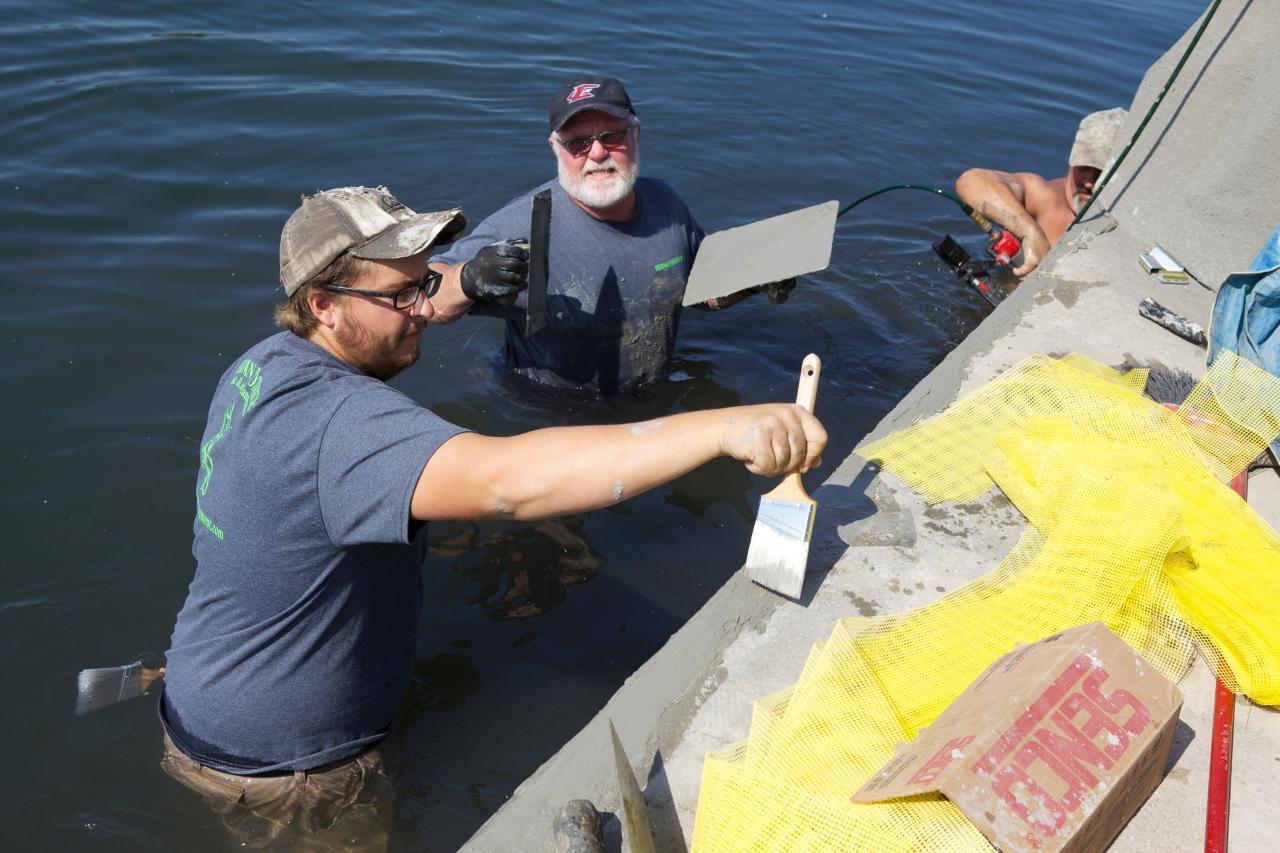 The show has at times been dubbed as the term "reality tv", but again its not your typical reality tv show. In fact its actually not reality tv, its not scripted… Lake Life is a build show, that captures who we are, what we do, and how we go about doing it. Being a family business, our families are very much involved. Here are is a link to some pics and some more info about the show: http://www.hbpondmanagement.com/lakelife.html








So anyhow, we are very excited for the show to come out. We hope you all tune in on the 12th and hopefully will share with your friends and family as well. Also shoot us some feedback as well if and when you do end up watching!



Also while I'm putting together a blog post, you are all invited to our Giant Goose Ranch open house on Saturday May 23rd from 9-4 pm! http://giantgooseranch.com/ We have a brand new 2 acre Inspiration Fishing Pond filled with trout, catfish, bullheads, bluegills, crappie, perch, bass, and many other bonus species for your kids to come out and catch at the open house, along with pony rides, face painting, and all kinds of other fun stuff. Lunch is provided as donations for Camp Big Sky.



We actually have an awesome fishing derby going on that day as well. 30 professional tournament anglers will be taking out 30 handicapped residents for the ultimate fishing derby! The weighin starts about 11:30 am and we would love to have a huge crowd on hand to cheer on the contestants as they stand up on the grand stage and hold up their fish!!



Hope to see you all at the Goose Ranch on the 23rd!
Sun, April 12, 2015
Well, I think I can hopefully confidently say that spring has officially sprung! Vegetation is finally turning green, no more frost on my windshield in the morning, and crocs are our footwear of choice from here on out… Oh yeah and we actually made it out fishing Saturday late afternoon!
We were after as many different species as possible at Herman Brothers 30 acre proving grounds lake and we accomplished our goal:








It was good to get back out fishing. This spring we have been working 'round the clock getting the Goose Ranch ready for the upcoming season! Man, I'm telling you it is by far the most impressive outdoor recreational project I have seen to date anywhere in the country. We have built, connected, and renovated tons of lakes, put in miles of roads, constructed tons of cabins, created bigger campsites, working on pavilions, bathhouses, beach, and stocked more fish than one could even fathom. We are up to 56 lakes and ponds now on the property…If you havent been out to at least visit the goose ranch in 2015 you need to come and take a peak!



We have been putting all our updates, events, and pics on our Giant Goose Ranch Facebook Page. You dont need facebook to view it, here is the link: https://www.facebook.com/pages/Giant-Goose-Ranch/1442589849289140



Here are some of the coolest fish we have stocked this spring, Albino Channel Catfish:






Here is a pic of our new rental cabin at the goose ranch! This cabin is available to rent by the night and includes full access to the whole ranch. http://giantgooseranch.com/cabins_rental.html






You can bring your own boat or rent a deluxe fishing boat as well. Buell's Marine in Canton is conveniently located just a few miles from the ranch and has been servicing all our boat needs for us and our members at the ranch! We have the perfect family fishing boat for rent, its a brand new Lowe Stryker 16' fishing machine! It has enough amenities for the perfect day on the water, but simple enough for anyone to operate and manuever!




Here is an event at the Goose Ranch that I hope you all can attend and bring your friends and family out to as well. Its not only our spring Goose Ranch open house, but its also one of the coolest fishing tournaments in the country! The Camp Big Sky handicapped fishing tournament will be held on Giant Goose Lake on Saturday, May 23rd! The tournament pairs up 30 handicapped anglers with 30 tournamant fishing anglers and every species of fish counts. We are setting up a big stage area for the weigh in and our goal is to have over 500 people there cheering on the contestants as they stand up in front of everyone holding up their fish with the biggest smiles you have ever seen!






Also on that day bring your families out to fish in the kid fishing pond, hike the trails, and tour the ranch! This will be a super fun event for the whole family!



One last big event is our tv show season premiere is scheduled for Tuesday night May 12th on the DIY Network. I believe there will be a new episode out every Tuesday night all summer long! I think they are going to start playing the reruns from last season earlier in May too. Here is some more information: http://giantgooseranch.com/lakelife.html



I was a little tired today and ended up taking a 4 hour nap this afternoon. Man am I thankful for Sundays, I guess God knew what he was doing by putting in a day of rest… All the HB and Goose Ranch crews have been working round the clock! We now have 26 guys and gals working full time for Goose Ranch and we are super excited about the opportunities that lie ahead!!!