Mon, March 17, 2014
If you were to ask any northern muskie angler what his or her favorite muskie fishing destinations are, the waterways of Northwestern Ontario, North central Minnesota, the clusters of lakes in Northern Wisconsin, and the Great Lakes are the likely unanimous choices. Two of these regions are undoubtedly mine. For anglers looking to escape the winter cabin fever and ditch the ice for more reasonable climates, word class muskie fishing can be sought south of the Mason-Dixon Line in the underfished, flourishing waterways and river systems of Tennessee.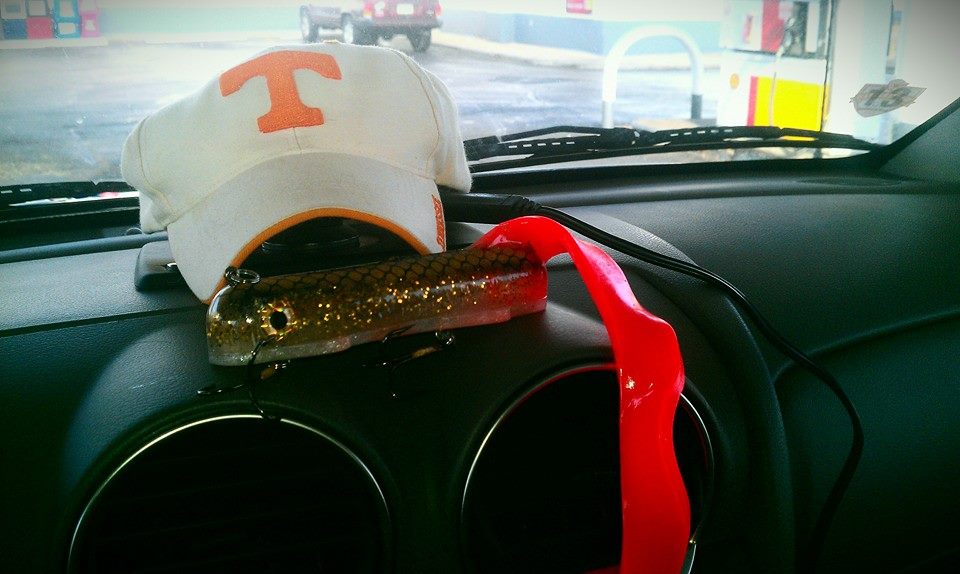 I was granted my diplomatic immunity to TN.
Last week, I took the week off and had the pleasure of driving myself 550 miles south to finally meet and fish with a long time online acquaintance, friend and muskie fishing guide, Cory Allen, of Tennessee's Stone's Throw Adventures. I met Cory through a mutual musky friend of ours during the summer of 2012 and from there grew a friendship of many common interests comprised of big game fishing, outdoor writing, and creative collaborations for various publications including my own. It wasn't until receiving last autumn's invitation to fish Tennessee's Melton Hill reservoir with him where I grew intrigued of some southern comfort and opportunity to catch one of those 50 inch beasts Allen and Melton Hill is known for today.
For anglers who are unfamiliar to southern fisheries, muskies are indeed native to some rivers and streams in Tennessee. Hard to believe, but they are riverine oriented fish and made their way south from the Ohio River valley. Their existing populations have have been stocked and fisheries rehabilitated with varying degrees of success. The hotbed of southern muskies has always been the famous Cave Run Reservoir of Northeast Kentucky. However, based entirely upon Allen's success with clients and the number of 50 inch trophies boated and released in 2013, I'd have to think otherwise, as this venue gives The Cave a run for its money… and this may even include some famous northern muskie waters many of us fish.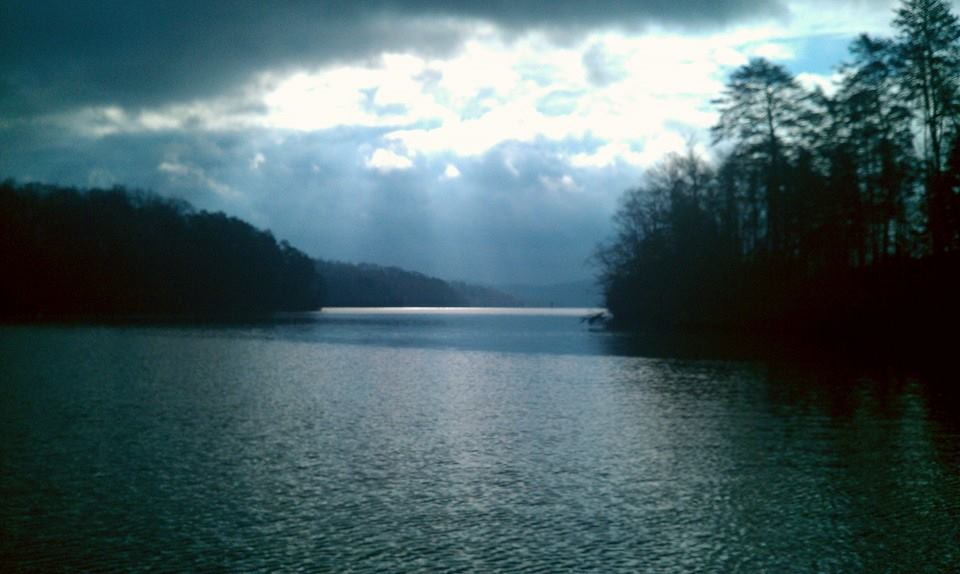 Melton Hill, a 6,000 acre widened basin of the Clinch River is a 57 mile long highland reservoir whose water levels are controlled by the Norris Lake and Melton Hill Dams. The reservoir situated in between is a deep, clear, cool water environment that allows ideal dissolved oxygen levels and cool water temperatures to rear a stocked trout fishery, and a year-round musky fishery whose population is sustained through annual stocking and protected by a strict 50 inch size limit. What makes Melton Hill a unique fishery is that the warm water outflow of the Bull Run Steam Plant allows for productive multi species winter fishing in the pools downstream. Despite its daily operations, the warm water discharge does not impact summertime water temperatures, and neither does the reservoir establish a summer thermocline. It's always a cool water fishery from top to bottom of the water column, thus allowing muskies to grow big and retain their heavy weights, and feed heavily on the smorgasbord of rich forage species consisting of stocked trout, redhorse, suckers, quillbacks, small buffalo fish, and threadfin and gizzard shad.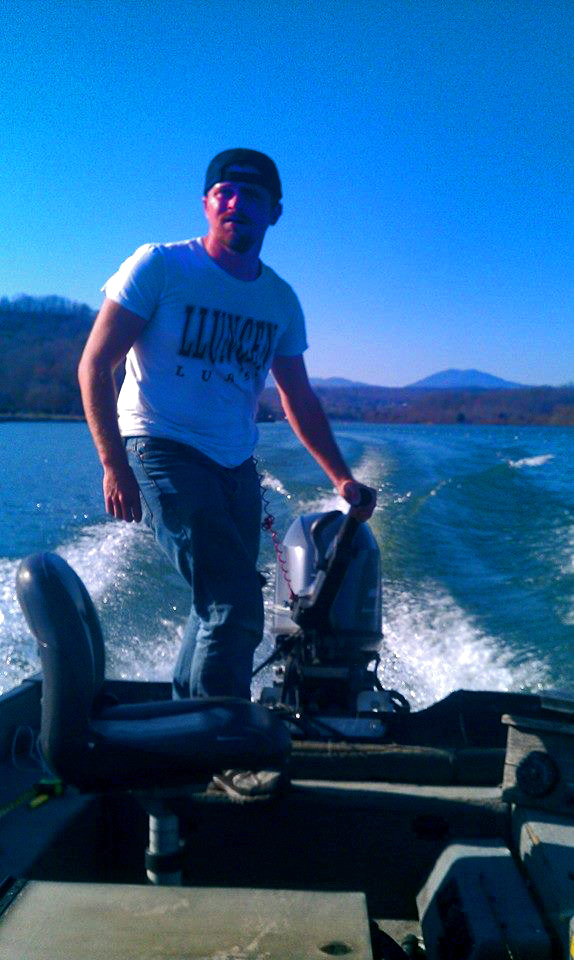 Before heading south, I knew this trip wouldn't be a home run. Melton Hill isn't a numbers lake by any means. It is purely trophy water with a musky fishery of moderate to medium population density with most specimens at 45 inches or greater. Those 10 to 20 fish follow days of the north I am accustomed to would not be happening. But whatever few fish we'd raise to boatside had a far greater probability of striking and being caught. Despite these odds, it felt great to escape from the cold, work on my spring training tan, and cast to open water. Big fish were the plan. I told Cory not to treat me as a client. Lets just fish, learn from another, enjoy one's company, and have fun.
During our 4 and a half days of fishing, nature's playbook indicated that muskies would be in their pre-spawn and spawning locations of the lake based on the 50 to 55 degree water temperatures registered. These areas included creek mouth staging areas, as well as deep into the back ends of coves and spawning bays, and even small ditches. Allen and I focused primarily on these lake locations as the week prior he and clients were locating and hooking into 50 inch fish. In order to stalk the shallows and creek outlets, downsized presentations such as loud rattlebaits, chatterbaits with paddle tail swimbait trailers, and small jerkbaits were the ideal players fished with a combination of 50 pound Cortland Masterbraid on our flipping sticks with high speed baitcasting reels, or 30 pound Cortland Masterbraid with Allen's Tiger Wire 49-strand stainless leaders. All fished with 7 and a half foot medium heavy action spinning rods and reels.
These bite-size musky tactics have been popularized on many of my Northwoods waters, and Allen has been able to showcase their early season productivity on his southern waters within the pages of In-Fisherman Magazine.
Fishing these skinny water locations, Allen has hooked the biggest fish of his life on a 5 inch Rapala X-Rap. His other favorite early season musky baits also include 7 inch Senkos rigged weightless, and 7 inch Zoom Super Flukes on a 7/0 wide gap hook. According to him, they appeal to big muskies.
Unfortunately, these downsized presentations failed to register any fish for us because muskies had not yet moved into these coves and back bays. Was it time for them to begin spawning? Yes. But why fish weren't being located or sighted we don't know. The only reasoning we had could be due to drawdown as well as post-frontal conditions which for sure discombobulated the fish. We did spook few fish in the shallows but they were uninterested and nowhere close in numbers they should have been at in these areas. The only interested fish we enticed in the shallows was lost immediately. My wire leader was unknotted by a large fish that broke off the chatterbait and paddle trailer….. that was a first for me. We didn't get a visual of the fish because it felt like massive razors sliced through based on the rapid few taps I felt with the rod. After both of us being analytical over the event several hours afterwards, we both speculate that it was a giant sunning herself in the chocolatey-milk shallows that was stimulated to strike the Strike King Poison chatterbait.
Besides stalking the shallows with our stealth mode combat tactics, trolling was a secondary option for catching fish. Melton Hill possesses depth, clear water, rock and some submerged wood cover within its coves and alongside deep channel edges. Because of its little cover, lack of vegetation, and minimal musky habitat along its banks, muskies tend to suspend off shore where there is a baitfish presence, or be drawn to the lake's topographical features and patrol along the lake's bottom. Trolling with crankbaits and powering the bottom is another of his lethal presentations for success and was done quite a bit in staging areas outside of creek mouths and along the deep edges of channels.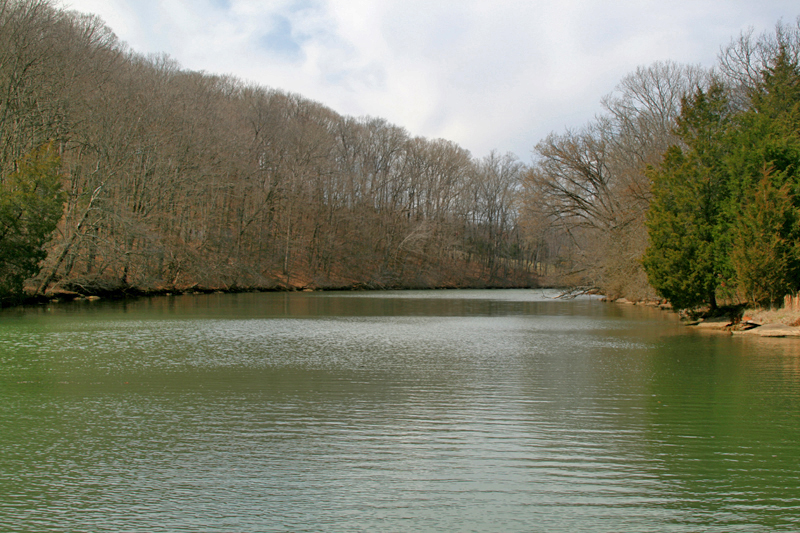 Trolling locations during spring are generally associated with creek mouths and the deepest sections of their arms. This was one such location where trolling was employed.
Throughout much of 2013, Allen utilized a system allowing the reciprocation for trolling and casting and made it popular in print with In-Fisherman and on the web at Fishing-Headquarters. It boated many muskies for his clients and I had the opportunity to try trolling for the first time ever. What allows him to utilize both techniques is through outfitting his 17 foot Tuffy Esox to accommodate both methods. With his Minn Kota Terrova iPilot up at his casting deck where I fished from, and a Yamaha 70 horse tiller on the transom where he always stands back and fishes from, he's able to stand from the stern and run multiple single line trolling passes at speeds of 1 to 3 miles per hour, working deep topography as well as the numerous 12 to 30 foot deep breaklines Melton Hill possesses. If he ever locates something unique on his flasher whether it's a school of baitfish or underwater structure likely containing fish, he kills the outboard and controls the Terrova with remote, dissecting the location with casting and jigging.
Allen's trolling philosophy isn't about putting multiple rods in holders and covering acreage of water in search of fish. He often maps out a piece of structure and uses trolling baits such as Musky Armor Krushers, Bagley Shads, Triple-D crankbaits, and spoon plugs to effectively cover it. Most trolling passes we made never extended farther than the edges of the structures we were fishing, but were short 50 to 100 yard drive-by's which bumped and grinded over the deep structures.
With this single line trolling, we held the rod at all times. This form of trolling allows anglers to understand how the lure is running and what it is doing at all times. The rod's vibration indicates what type of vibration and action the crankbait has at different speeds. Holding the rod also generates action and allows the bait to get pumped which can generate strikes from following fish and reel drags can then be adjusted whenever needed. With each bump and grind of the bottom, trolling noobs like myself can fully understand the nature of the structure and our trolling passes and lure depths can be adjusted accordingly. With rod in hand, we get to experience the excitement and rush of powerful strikes.
However, on this trip, we also failed to locate any muskies while trolling. Two other fish came to boatside but were done by casting with crankbaits along main lake areas containing warmer water temperatures. Both were big. A fish Cory hooked and lost at boatside was all of 45 inches, and another he raised on a Medussa was a 50 to 52 inch giant.
At this point of my trip summary, you may be wondering and asking yourselves why the hell is there even a fishing report and why is this worth writing about when zero fish were caught by a licensed fishing guide and professional, and an expert angler who travels, fishes tournaments and writes articles as one of his side jobs. I believe in the concept of learning whether fish are to be caught or not. And I am brutally honest and have no shame in my game. This latest trip fully illustrates that knowledge is power and you can always learn about a specific fishery by reading about one's experience.
We fished the right locations, we threw the entire boat at them, and we fished specific locations which we knew held fish. But nothing was working and muskies showed their disinterest due to many biological factors and weather related events. For the first time ever, I came home a zero and caught nothing. The fishing was enjoyable, but brutal to the extent that absolutely nobody else on the lake was catching anything of any species - not even other guys or folks fishing the stacked pool below the steam plant.
A humbling experience, and a trip I will make once again this fall when my northern travels conclude. I completely see why Melton Hill is revered as a special, unique musky fishery. IT HAS IT!
Despite instantaneous multimedia coverage of the hottest action in musky angling, there remains a hidden chronicle and untapped population of musky at the bottom of the known musky range in Tennessee. These waters are still being charted in the musky world by guides like Cory Allen. There are subjects about the beast which are still unknown, and whose behaviors are still in the process of being figured out.
If interested in a 2014 fishing trip to Melton Hill, Tennessee (or any Tennessee waterways and river systems for the matter), I highly recommend hiring Allen to speed up the learning curve as he will put you on muskies on these waterways and teach you things that can be applied elsewhere in the musky range. He fishes the system year-round and is available weekly. His knowledge is nothing short of extraordinary, and he is not afraid to blend science, on the water limits, and unorthodox methods and innovation into catching fish. I truly believe he catches more 50 inch trophy muskies than anyone else in the country who is NOT fishing or guiding the Great Lakes, Minnesota, or Northwest Ontario. Believe it.
Cory Allen
Oak Ridge, Tennessee
http://www.stonesthrowadventures.com
.(JavaScript must be enabled to view this email address)[/email]
(931) 261-2483
As the title reads, we both succumbed to nasal congestion and colds following our 4.5 days of fishing.
Tue, November 19, 2013
Each November a phenomenon occurs in some our, deep, clear and colder Northern waters. If you don't fish for muskies or any meaningful trophy fish this late in the season, you may think it involves winterizing the boat or preparing for first ice. However, if you understand the forage complexions and underwater ecosystems of these lakes, you may figure out that the annual cisco and whitefish spawns take place.
This year I've had the opportunity to fish deeper into the season than ever before. I've also been able to reach my 'unplanned' goal, and set the personal milestone of fishing for 100 days up north in 2013.
I always call it quits with the up north travels by mid October and get burned out with fishing entirely shortly after. But not this year, and likely never again. Thanks to my good friend and tournament partner Steve Peterson and his dad Bob (and Steve's father in-law Ray), I've been able to join my musky pals for these long weekend trips which have been a blast. It only took me all 27 years of life to realize that no matter how cold the weather may be, how obsessed and crazy of anglers we are, and how almost frozen the lakes and their boat landings will be, November can be a magical month for muskies and more.
Hey Steve, remember that one weekend in mid November we broke ice in order to catch big fish?
Below the cold water's surface, toothy predators such as musky, pike, and walleye feed voraciously as the urgency of winter looms closer. They target whatever forage concentrations are available. This time of year, it's ciscoes on the deep oligotrophic and mesotrophic lakes, and sometimes schooling suckers. The larger the concentrations of these forage species, the larger the concentration of these apex predators can be. In mid to late November, the cisco spawn is certainly the largest and most predictable forage concentration around, and is easily the best trophy game in town.
Staging ciscos were registered on the HDS during the morning hours. As soon as darkness sets, these baitfish can be found spawning along gravel and sand shorelines as shallow as 2 feet deep.
Ciscoes inhabit natural lakes and reservoirs of moderate to low fertility. Historically, they only inhabited larger lakes, but naturally reproducing populations have been successfully established as an additional forage supply in lakes as small as 200 acres providing they have depth and adequate spawning habitat. High water clarity is not necessary for their survival. But for ciscoes to thrive and populate, high water quality is required. In Wisconsin, cisco grow no longer than 5 to 10 inches, and will spawn in 38 to 40 degree waters under the moon-lit darkness.
Throughout our weekend trips the best fishing often took place by working closely near the forage concentrations: Remaining deep weed edges, cisco spawning flats, steep shorelines and deep breaklines. Presentations that could be fished slowly and suspend in the water column often fared best. Gliders such as Softail Phantoms, crankbaits including Kraves, Cisco Kids, Depth Raiders and Magnum Rapalas, and the up north tradition of running multiple quick-strike sucker rigs at varying depths and perimeters around the boat produced all of our fish.
Besides following these presentations, time of day was certainly a factor as well. Playing the moon game, fishing the most productive spots in afternoons and evenings, and staying on the water well past sunset were all critical concepts leading to our success. Feeding windows were undoubtedly short, but the flurry of action that came within these windows were almost always comprised of multiple feeding fish. Following these patterns over the course of two long November weekends, twelve muskies and other big bonus species slimed the Frabill and provided us with ample amounts of late season fish porn to keep us satisfied throughout the upcoming winter months.
At this time, muskies, pike, and walleyes of all sizes feed on these schools and become as catchable as they ever will be. This does not mean the fishing is super easy, but it becomes substantially easier. The joy of fishing during the midst of the cisco spawn is that the same presentations usually work great for all three species.
For instance, never underestimate the the size of lure a huge cisco feeding walleye will strike. This big one, my largest ever from Wisconsin waters, took down a 9 inch Cisco Kid crankbait.
Fishing during the month of November isn't for the frail, impatient, or intolerant of the cold. It's a time for diehards and the possessed to feast on end of season opportunities and concluding feeding splurges of Esox Masquinonge. Fishing the cisco spawn similarly to how we did is simply a matter of timing and putting all the pieces together even if much of it came through the assistance of guides, friends and our independent research. The correct locations, water temperatures, and presentations are all a necessity for successful fishing to take place. Once these variables are put together in proper fashion, it usually doesn't take long for good things to happen.
As I keep getting older, I see more and more how the month of November is some of the best fishing of the year. In 2014 I may need to put less emphasis on my annual October trip and focus more on November up north, no matter how cold it gets!
During this time of year, prior to first ice and the dreaded freeze, all you can do is cast your Hail Marys because the big bite is bound to happen. And when time runs out like it did for us, all good things must come to an end.
Editors Note:: During the closing moments of our last day of fishing for the year, a four foot, 30 pound monster hammered one of the three quick-strike rigged suckers I was operating in the boat's rear. When fish ran away from the boat I set the hook and I was in for a battle. The stiff, 7 foot graphite rod quickly became an adult version snoopy rod and I really had no chance of winning this battle. As the fish quickly drew near boatside, Bob reached for it with the net and as fish was turned head-first, she shook the hooks before making contact with the bag and back at me flew my unscathed sucker rig. Due to the frail rod we had on deck apparently I never drove home the hooks with my gargantuan hook-set. The entire fish was observed; head was huge, jaws could fit an entire 20 inch sucker, torso was immense, and length was greater than the 46 inch replica that was hanging on Bob's wall. Was it the fabled 50 incher? I don't think so, but it was big, had weight, and made the above mid forty look like a minnow. I hadn't lost a single big fish of any species in 2013 until that moment. Better later than never I guess. On the bright side, I'm not sure this fish could have been handled any better than we did, and to do all of that with a more cursed and crappier rod was quite an achievement. As it was in this case, musky fishing became a game of inches and as mentioned above, we ran out of time. If only I had two more seconds to dance with that fish while she was in the water, she would have been in the net. I only wanted to get my photograph. But the memory was caught, and that's all she ever will be.

Thu, November 07, 2013
Some of you are friends with me on Facebook while most of you probably aren't. This catch hasn't been made public anywhere on the internet than through my Facebook page photos. For all the right reasons, I am reluctant on sharing much information about the subject, my location, all the wheres and hows and whys, and how to best approach something of benefit to the local fisheries.
On Sunday, October 27th, I fished my backyard of Salt Creek. I've fished this small flow for the last ten years and it still remains a productive and surprising fishery from time to time. I'm located on the border of Cook and DuPage Counties near the town of Oak Brook.
The previous week the walleye fishing was hot and on fire; by far the best numbers we've ever encountered. But no big ones. On the Sunday night's wade of October 27th, I returned to one of my secret walleye holes to catch no walleyes, but rather two muskies. A pair of 32 and 36 inchers were caught from the same spot, both on 4 inch minnowbaits, two hours apart from each other; 6pm and 8:15pm.
Both fish freaked me out!
To catch a fish like this from a former 'dead river', let alone from a waterway that has never held any muskellunge population in its history, and within 15 miles from downtown Chicago is unheard of. Amazing.
I'm located nowhere near the likely source of these fish (that one lake). I'm also nowhere near the larger river this small river flows into. I think I know where these two fish came from, but I remain skeptical that they could possibly survive swimming through 90 degree boiling hot summertime water temperatures, past twelve water treatment plants and sewage outflows, and other adverse conditions. But what do I know? I'm a fisherman and not a scientist.
Busse Lake in Elk Grove Village, IL has been stocked with large muskellunge fingerlings since 2007-2008. The length of these fish is about average with the typical musky growth rates. Also, from time to time, accidental muskies like this also somehow end up in the nearby Des Plaines River, but to catch one from there or originating from there is even more rare.
I'm still waiting word from our state's biologists so I can better understand how muskies could have possibly ended up in my backyard and survived the trek to get there. Almost two weeks have gone by and still no answers.
My mother said it best….. "Are you sure you didn't bring these fish back from Wisconsin!?!"
We await for the verdict. And I will probably go another 1,500 wades here in the next several years without ever seeing or catching one ever again.