Tue, May 07, 2013
Prior to Saturday May 4, 2013, the entire state of Wisconsin and its residents were unsure whether there would be any open water present in its northern regions. Local guides and friends expressed little confidence. The day before the season opener, it appeared there would be no chance for much accessible open water thanks to the late winter and delayed arrival of spring.
The latest ice-out period in recent memory were the winters of 1996-97 as ice didn't leave the lakes until mid-May. Pictured below is May 3, 2013, as I overlooked my small 23 acre lake in 30 degree weather. It typically goes out anytime in April.
It was a cold one. I think my lake was making ice again on Friday afternoon.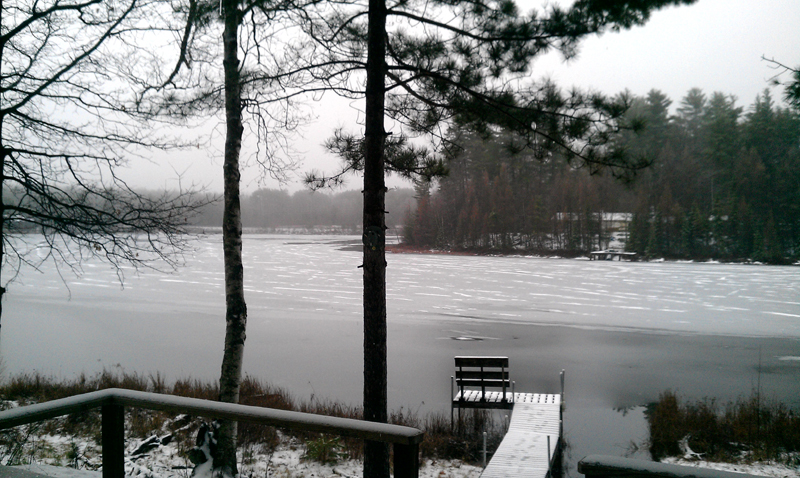 Not only did this weekend signify the Wisconsin gamefish season opener, but it was also the weekend we opened our house for the 2013 season. For much of the remainder of May and most of June, the northwoods will be my home.
Due to snow, I couldn't do much yardwork. Because it was also wet, I couldn't burn and blow things up in the forest. I also couldn't do much fishing due to the remaining ice cover. But I did get my boats ready for the season. At least that's the most important thing.
Having worked on the project jon boat throughout the spring and finishing it, I worked exclusively on my fiberglass Lund this weekend and had all the time in the world for it on Friday and Saturday. I re-rigged it with new electronics; I purchased the new Lowrance Elite 7HDI and mounted it to the console. Then I moved my year-old Lowrance HDS 5 to the front casting deck. Both are equipped with gps cards and other extra features which is nice. Besides the re-rigging, I did the usual preseason maintenance such as re-lubing the lower unit, checking my hubs and wheel bearings, filling up the tires with air, charging up the batteries, and cleaning out the interior. Another extracurricular task I did was apply a fresh coat of fiberglass patch to the keel and prepare it for this weekend's keel guard installation (photos on this one after this coming weekend). I will also get some photos of my jon boat in water, fully rigged with outboard, and me fishing in it. It's truly a sweet boat.
With both boats finished and not much else to do on this opening weekend, my muskie tournament buddy Steve Peterson invited me to join him and his dad, Bob, for some fishing. The options were to fish the nearby rivers or flowages like everyone else, or go for the unpressured water. We elected to fish where there were only two other boats. We fished on the Sugar Camp chain Saturday afternoon into the evening hours. En route to meet up with Steve and Bob, a community of anglers were ice fishing the southern end of Big Arbor Vitae. Likewise, a few other brave fellows were atop the ice along the northern end of Little Arbor Vitae. These were hilarious sights for me to see during the month of May. Apparently a few guys fell thru on Big Arb, but were alright.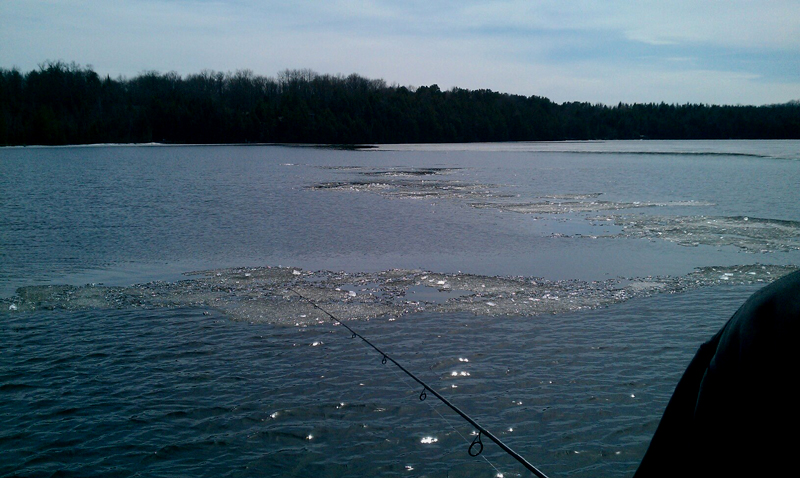 Meanwhile, the fishing for us and the little open water we were able to work with was abysmal. But it sure felt nice to be out on what limited water we had, enjoy the 60 degree sunshine, hear the rapid melting of whatever remaining ice was left, enjoy some beers and engaging discussion, and be humored by local area guide Gary Myshak who allowed us to tag along for the sunset bite.
In four and a half hours of fishing we had caught nothing. But on a day like today it didn't really matter. It felt good to finally be on a boat, and partake an activity that just feels right.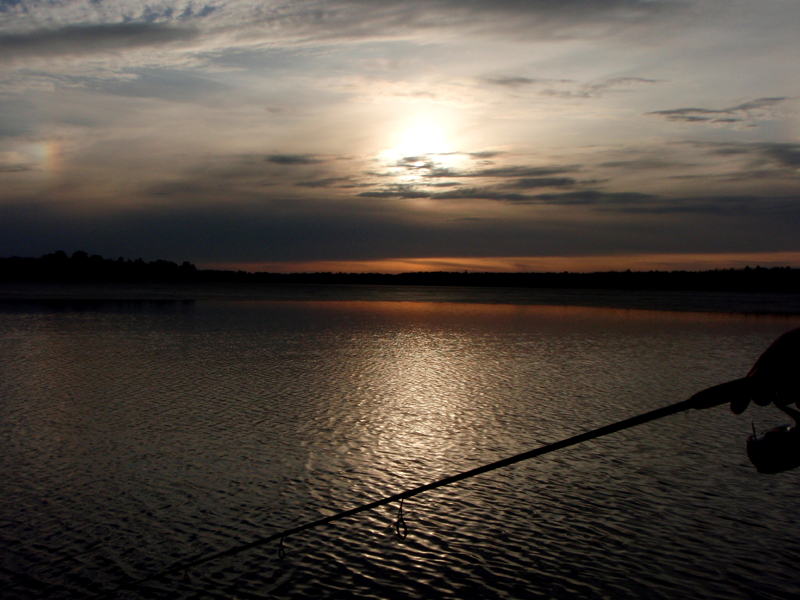 By the time we had to leave Sunday morning, much of my 23 acre lake had finally melted. Pike were observed sunning in the flooded shallows, waiting for their mates to find them for the impending spawn. Bluegills and bass weren't far behind in slightly deeper water, waiting for a guy like me to finally catch them and enjoy the backyard they reside in.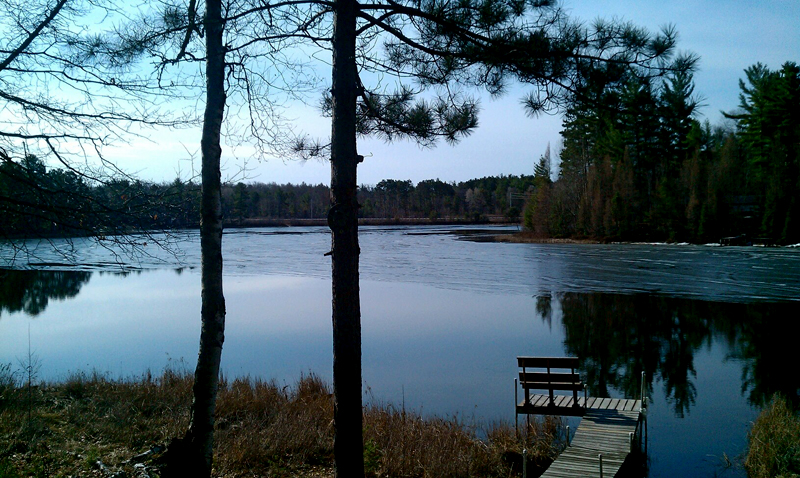 I will be back again Sunday morning. Till then I'm down here in Chicago finishing up my immediate work.
The good news is majority of my lakes will finally be open, with the exception some of the deep and clear larger ones I frequently fish (1,000 acres or larger). Walleye spawn will be quick and they should be finished by early next week. Same deal with the pike. As for my favorites the bass, it's difficult to predict. The bad news is I'm worried the bass bite won't be strong like it has been during the last few spring seasons. Regardless, I'm confident that we will catch them, as well as any walleyes, pike, and panfish we try for. The worst part is I don't have any strategy or gameplans made yet.
Whatever stories I write and pictures I post these next several weeks will be done periodically through the internet cafes.
Mon, April 22, 2013
Since my last project update from end of March, I've been working very hard to complete my jon boat restoration before my spring fishing season commences. Thankfully the hard work paid off. I finished a week ahead of schedule.
When I made my last post, I completed the sanding, prepwork, and interior and exterior painting; All during a two day window of sunny 60-degree weather. Since then, we haven't come close to reaching those daytime highs. These were big tasks which led me to this latest and the project's completion.
To make this story less redundant, I will leave you with these two links below; my first two entries concerning this same project. One from October when I first purchased this project, and the other from end of March when I last had something to update you with:
Image Gallery: October 2012 - Project Boat is Acquired
Image Gallery: End of March - Prepwork and Painting
For a refresher, this is what I started with. A helpless, run-down 14 foot boat.
On the weekend of April 13/14, the flooring (marine grade plywood) was cut. Local Chicagoland fishing guide and pal Pat Harrison assisted me with the task. Who would have ever imagined that the person who gave me the wood also helped me with the cut, and that the wood would again return to the driveway it originally came from?!? Pat has rebuilt and installed boat flooring before so he was the perfect choice for aiding me during this phase of the project. We made our cuts in his driveway. With the professional builder and contractor by trade this took us three hours to complete. If I did it myself, probably a full day. Thank you for the assistance, Pat. I hope you enjoyed my case of beer!
[For those of you interested, Pat is a newly certified captain and licensed fishing guide. He will be offering trips on the Chicago River, Fox Chain, and other local waterways throughout the year]
Pictured above is the heavy duty work done in Pat's driveway. We used my cardboard templates for tracing our cuts. To make sure each cut would fit perfectly (seen below), we took them to the belt sander for precise shaping. Thankfully we had just enough wood for this project.
Below is what it looked like following our morning cutting session.
Later that day, I sized up my carpeting. It was glued to the boards, and then reinforced with the staple gun. The cutting and carpeting was all completed within a single day.
The following next few days, in between the great flood of 2013, we worked on building up the deck supports. What I believed was going to be difficult and intimidating turned out to be fairly simple. I was never good at geometry, nor am I a structural engineer, but the system we came up with is seen below:
I've observed photos of other jon boat projects and everyone's deck supports are always different. They range from sophisticated bracing and welding jobs to a simple buildup of wood and in other times nothing. We figured why not just incorporating both braces and wood. My dad helped me out a lot with this part.
Clearly this is strong enough for a 190lb fellow. Built rock solid with zero give.
Initially I was undecided on whether to include a storage door for beneath the deck. I wouldn't have minded leaving it open for easy access underneath. However it would have been unpleasant to the eye. Luckily when Pat and I made our cuts the weekend before, we had enough leftover wood to trace out my sad excuse of a door template. When my cardboard templates were laid out weeks before, the template had trouble fitting. But when our cut was completed, Pat and I accidentally stumbled into a good problem. The storage door fit! After installing the deck and piano hinges for the door a modest door was created.
[All photos seen from here were from 4/21/2013]
Note the strip of wood below: I have that drilled into the floor so the door stays closed and won't swing inward towards underneath the deck.
I'm very glad the deck was able to accommodate a door with lots of storage space underneath. This was purely an accident, but a good one.
Following the deck and door installation, it was time for rigging and accessory installation….. the home stretch.
Back in December I was monitoring Craigslist in search of a lightly used or possibly new bowmount trolling motor. Something short shaft and 55lb thrust would have been ideal but the ones I found were either overpriced or very old and broken down. I eventually settled on a brand new MinnKota Edge w/ warranty that I picked up for $250. I figured this was the best I was going to find for the amount I wanted to spend. It has a 42"shaft with 45lb thrust, good enough for just about any type of scenario.
In order to mount it, I had to get creative. I built a mounting platform with treated lumber and made it level with the diamond-plated bow. We then used four 6-inch torx screws (used to build patios and deck building) to drive it through and hold the mount in place.
Following the platform installation, the trolling motor was installed without trouble. The mount is strong as hell and I can't imagine having any problems with it.
By the time battle was over, my fully rigged front deck with finished wiring now looks like this:
Moving forward into the summer months, I am leaning towards eventually installing a removable front deck seat w/ floor base drilled in. I have more than enough room up here for standing or sitting and leaning back on a butt seat.
By 6pm on 4/21/2013, I had successfully restored, refinished, and built myself another brand new fishing boat along with the aid of a friend and my father. The feeling is awesome.
Ladies and gentlemen, I introduce to you The Muskie Jumper. 14 feet of aluminum badassery nestled onto Shoreland'r trailer which I saved from my previous tin boat. Not pictured are Evinrude outboard and rear deck electronics as those two items are sitting in the garage up north. I'll be sure to post photos once those are added on, in the driveway up north. Then all will be completed.
This original boat was purchased for $350 along roadside. Original rotted trailer was then given away. The cost of parts and materials and add-ons was $365 before all sorts of last-minute screws and mounting bolts were needed. What saved me was having all the accessories such as the outboard, trailer, electronics and carpeting.
This luxury yacht will be primarily used on rivers and lakes with horrific public access. It's gonna be a rough year for the inhabitants of the Wisconsin, Flambeau, Chippewa, Menominee, and Saint Croix Rivers.
Before any of that happens, I must wait for 30 something inches of ice to melt. This boat was going to be trailered back to its garage up north this upcoming weekend but due to snow and ice and a brutal winterspring season, that won't be happening until two weekends from now.
As bad as this boat once looked, it was a surprisingly quick project (quicker than my Lund restore in 2007/08) due to organization, having an idea of what I was doing, and envisioning what I wanted to build. This goes to show that if you can picture it, you will surely be able to build it. What I've built myself is a dream fishing rig for float trips.
Click to View Complete Project Image Gallery
Mon, April 08, 2013
It was only a matter of time before I'd catch my first fish of 2013. With the weather finally becoming more spring like the fishes are waking up and so am I.
With the Des Plaines River being a major bust so far this spring, I decided to start fishing one of it's largest tributaries late last week. Luckily I only have to travel less than five minutes to get to most of my good spots at the local flow rather than a 40+ mile round-tripper to my good spots at the river.
I've been fishing downsized presentations for the sole purposes of action and feeling the tug with light action rods. Traditionally I don't do this as I like to bust out the minnowbaits, tubes, and larger plastics as catching the unexpected larger fish from here is so rewarding. But right now all I want to do is catch anything, even if 95% of them are dink largemouths. The downsizing has been working well. Hair jigs beneath a float have been catching as have smaller crankbaits and 3 inch swimming grubs.
I haven't waded much. Rather, more like spot hopping. Drive around, park the car, and bounce from hole to hole. I've been concentrating along shoreline eddys with sand bottom exposed to the sun. I've also been working along deep shorelines with a combination of wood, undercut banks and hard bottom (some current is key here). Bridge areas with rock and depth have also been going good also. I'm sure if these same areas were tried on your local rivers for any species, the similar success can be had as well.
My last three quick afternoon outings have resulted in 20+ largemouth bass (all small but unbelievable action), and two average sized walleyes (19" and 18") which I rarely ever catch from here in April. Not having caught anything since November, I can't complain. The number of largemouths (very young fish) have been substantial. They all reproduce naturally both here and in the river and there must have been a great year class that I missed until now. Benefit of dam removal? I think so. I have also not caught any of those annoying northern pike that plagued me throughout all of last year. Also a benefit of dam removal? I hope so.
My theory for 2013 is that more fish like these and all other species will be utilizing the tributaries and maximizing on their feeding and spawning migrations. This creek offers a lot for walleye in terms of forage, food, and refuge, but little in spawning. Walleye fishing here hasn't been the same since I enjoyed my peak in 2005-2007 during the heyday of fish stocking. It would be awesome to catch more like these again, and even some random sauger too. Hopefully this is a sign of good things to come.
Despite the removal of dams on both this tributary and the much larger Des Plaines River, I'm about 95% certain these were resident walleyes and not migrants. It's too soon to tell but throughout the year I hope to put this to the test with hopes I catch more from a variety of areas on this creek. If I catch them from several areas rather than the usual two or three spots I normally do, and if I see an increase in number and catch rate, then my questions will be answered. Thank goodness for the removal of those damn dams.