Last year I built a long bow for a local St. Jude auction. This event is actually put together by one of the HO bloggers Treehugger. This event is a weekend long horse trail ride held at Jubilee State Park in Peoria County. This year I wanted to build another one and step it up a little bit compared to last years. People always ask about how to make one of these so I figured I would show y'all how I do it. This is how I do it, doesn't mean its right. haha.
Disclaimer: I do not build bows as a business nor do I sell bows. I just make them for myself and as donations for an event or two a year. Please do not ask how much to have one made.
Ok, had to get that out of the way. I have a week off (between jobs) and I wanted to get this bow going before it was too late. My plan for this bow will be a takedown model with a custom matching wood storage case. I am getting all the materials together today and starting on cutting all the pieces. The bow will have a Walnut and ?? riser. Not sure what to put in the riser yet. Need to go to the wood store and find something. The limbs will be clear fiberglass, spalted maple on front and back with walnut, bamboo and red or white glass in the core. Thats the plan anyway. Will see if thats it all pans out. Things tend to change on the way.
Pictured below is what I am starting out with. Still need to plane all the laminate and start the riser.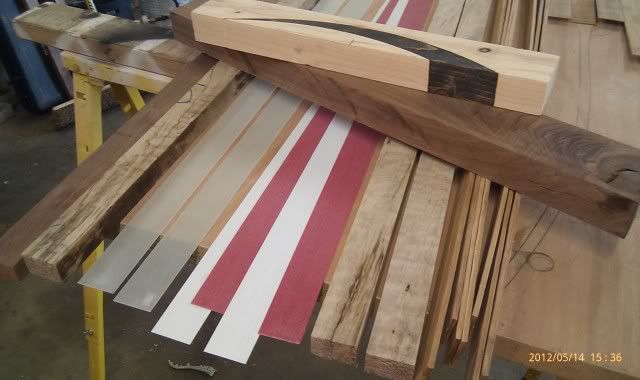 This is the wood that will show up on the limbs. It has a thin coat of clear to kinda give ya an idea what the finished product will look like. It will be a lot better under that glass.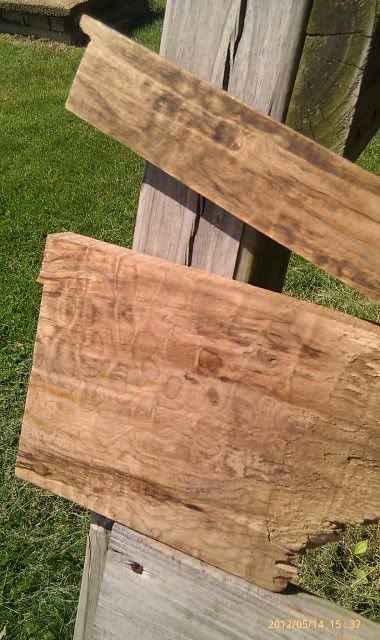 This is the design the riser will have. This is just a test sample I did today to make sure my jigs were still good. The light wood will be walnut and the dark will be ???. It will have some red and or white glass between it all as well.

Anyway, I will keep this thread up to date and try and document as much as I can. Feel free to ask any questions.